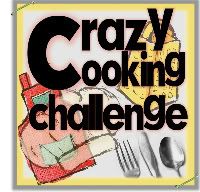 I've been writing this blog for a while now, although perhaps only sporadically, but in an effort to increase both readership and my own motivation, I've decided to take part in a challenge. Every month Tina at
Moms Crazy Cooking
hosts a themed cooking challenge and a "Linky" party to go with it. This means that all bloggers who participate in the challenge get links to all other participants' blogs on their own (so this month roughly 45 other blogs will have a direct link to MY blog, so maybe people will look at it! Likewise, my blog will have the same number of links to other cooking blogs, all with recipes on the same theme!)
Anyway this month's theme is Chicken Noodle Soup, which is great considering it's just gotten REALLY cold here (By REALLY cold I mean it's down to 10 degrees Celsius, but before you scoff at my wimpiness, keep in mind that my apartment has absolutely no insulation or protection from the cold at all. There are actual gaps between the window frame and the glass. With a tile floor and high ceilings it's often colder inside than out! So while I'm not likely to freeze to death, I do feel it a lot!) I also LOVE chicken noodle soup. Chicken soup (not necessarily with noodles) is my cure-all; when I'm sick, hungover, or just plain old feeling miserable it always makes me feel better. So this seemed perfect, right? The only problem is that somehow with Christmas, New Year's, other cooking projects, and a friend visiting, I didn't have much time for cooking anything! So I tried ONE recipe. There was no opportunity for more. And I'm amazed I even got this one done!
Now that I've said I LOVE chicken noodle soup, you'd expect me to go with a very traditional style of soup, but for some reason I didn't want to do that. Everyone's going to make a traditional one, and I'll likely pick the best of them and try it later. I wanted to do something different. Almost 4 years ago I took a trip to Burma (Myanmar) and was told when I went there I HAD to try Shan noodles. I did, and loved them. The Shan are one of the ethnic groups in Burma, and their noodles consist of a soup with chicken and various asian-style toppings, so this is what I set my mind to doing.
One of the rules of Tina's challenge is that the recipe has to come from blog-land (keeping with the whole "increasing readership" idea), and it's rather difficult to find a recipe for Shan Noodles on a blog, but I did find one.
Hsa*ba
is a site dedicated to Burmese food, a lot of which looks really delicious and might require trying in the future! Here is their picture of Shan noodle soup:
Yum, right? So I began by making the broth. Their recipe asks for a chicken carcass, but as I didn't seem to have one just sitting around I simply chopped up a couple of drumsticks and one breast, seared it in a pot with a bit of oil, then added water, onion, garlic, black peppercorns, a bay leaf, and a bit of ginger and some star anise to give it a more asian flavour. This is far more than the original recipe calls for, but who ever sticks to the original recipe when they're cooking?
I let this simmer for about two hours, skimming the foamy bits off the top every so often. It bugged me a bit that there was so much fat as well, because normally when I make chicken soup I put it in the fridge overnight so the fat congeals and then just scrape it off. I didn't have time for that, so I tried to scoop some of the fat off. I then strained it, seasoned it with some salt, and put the broth aside. I used the same chicken for the topping, and just peeled it off the bone and shredded it. By this time of course it was well cooked, and I was worried that it would be dry in the soup, but after the next step it really wasn't. Having said that, if I'd had a lot more chicken on hand, I might have used new pieces.
I then put some olive oil in a pan and fried up some garlic, added the chicken, a bit of chili powder (I only had the mexican kind with lots of other spices in it, and I would rather have used a more pure asian one, but it worked ok.), soy sauce, and a chopped tomato. I fried this all up together until the tomato was soft and incorporated into the chicken (I think this is why the chicken didn't seem dry).
Ok, I know that so far none of this looks too appetizing, but wait. It's coming. While this was cooking I poured some hot water over dry rice noodles to soften them up, and after a few minutes when they were just about ready I strained them and mixed in a few drops of sesame oil, both for seasoning and so that they wouldn't stick together. (The original recipe called for the chicken to be cooked in peanut oil, but I didn't have any so I used olive oil. I figured by using sesame oil here I could add that extra bit of nutty flavour that was probably needed)
Now for the assembly! I ladled some of the broth over the noodles, added a few spinach leaves until they wilted (I confess, I did not have regular spinach, so I used some kind of Vietnamese green leafy spinach-looking thing), scooped some of the chicken mixture onto the top, and finished it off with some chopped spring onions.
NOW it looks yummy, right?
This should be served with a selection of side dishes, which may include things like chopped peanuts, sour mustard greens, or deep fried tofu. I added the peanuts and had the sour mustard greens on hand (at least I think that's what I bought in the market outside my door!) but because I'd had a bit of a dodgy stomach that day I didn't eat many of them. (I probably would also have added some more chili powder or chili sauce if my stomach had been up to its usual strength) Honestly I'm not sure it needed them! It was pretty tasty anyway!
The final product! Yum!
It doesn't look exactly like the picture from the original blog that I got the recipe from, but I think that's partly because I made a much smaller portion but still used a whole tomato (it was a small one, but still). I liked it that way anyway, and like I said before I think that may be what kept the chicken from being dry. So here's my final recipe (quantities may be only estimated):
Shan-style Chicken
Noodle Soup:
Broth:
1 chicken breast
2 chicken drumsticks
4 cups water
half an onion
2 cloves of garlic
one bay leaf
8 black peppercorns
about a one inch knob of fresh ginger, sliced
two small bits of star anise
salt to taste
Chicken topping:
1 clove garlic, chopped
2 tbsp olive oil
all the chicken from the broth, de-boned and shredded
3 tablespoons soy sauce
1/2 tsp chili powder
1 tomato, chopped
rice noodles
a few drops of sesame oil
spinach
Sides:
spring onions, chopped
roasted peanuts, chopped
sour mustard greens, chopped

Method:
Sear the chicken in a pot with some oil for just a few minutes, then add the other broth ingredients except the salt. Simmer for 1 - 2 hours, skimming the foam off the top occasionally. When it's finished, strain the broth so it's a clear liquid. Season with salt to taste.
Reserve the chicken from the broth, discard all other ingredients. Remove the chicken from the bone and shred it with a fork. Put some olive oil in a pan and fry the garlic until it's fragrant, then add the chicken, soy sauce, chili powder, and tomato. Cook until the tomato is soft.
Pour hot water over the rice noodles and let them soak until they're almost soft. (They'll continue to soften a bit when you put the soup together) You may need to separate them with your fingers, so don't make the water too hot! Strain the noodles, then add a few drops of sesame oil and toss lightly.
Pour broth over the noodles (as much as you think it needs for the amount of noodles you have) and add spinach. Stir a bit until the spinach is wilted. Top with the chicken mixture.
Serve with chopped peanuts, spring onions, and mustard greens in separate side dishes so diners can adjust the taste to their own liking. Enjoy!