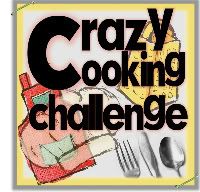 Whew! It's been a crazy month! Having had two weeks away and being pretty busy otherwise, it feels like just yesterday that I was posting about Shan-style Chicken Noodle Soup for the
Crazy Cooking Challenge
, but yep, it was already a month ago!
That means it's time for the next one! This month's challenge was to make a chocolate cake. Being far too short on time to do anything particularly fancy, when I stumbled across this recipe for Red Wine Chocolate Truffle cake, how could I resist? It was super easy and quick, with minimal fuss or mess, and it combines two of my favourite things - chocolate AND wine! Yum! Oh yeah, not to mention that I had to open a new bottle for this, and the recipe only uses 3/4 cup of wine, so darn I'll just have to drink the rest!
This recipe came from
Angry Cherry
, who had originally gotten it from another blog and modified it slightly. I wanted to try Angry Cherry's version because she said it was more moist and truffle-like. Sounds good to me!
6 tablespoons unsalted butter, softened
1 cup white sugar

3 oz./85 grams bittersweet chocolate
1 large egg
1 large egg yolk
3/4 cup red wine, like Cabernet Sauvignon or Shiraz
1 cup all-purpose flour
1/2 cup Dutch-processed cocoa powder
1 teaspoon instant espresso powder
1/2 teaspoon baking powder
1/4 teaspoon baking soda
1/4 teaspoon cinnamon
1/4 teaspoon cayenne pepper
1/4 teaspoon salt
Directions
Preheat the oven to 325°F/160°C. Grease a 9-inch round springform pan. Melt the bittersweet chocolate in the microwave or over a double boiler — set aside and allow to cool. Sift together the dry ingredients; all-purpose flour, cocoa powder, baking powder, baking soda, espresso powder, cinnamon, cayenne pepper, and salt. Set aside. Cream the butter and sugar together until light and fluffy, scraping down the bowl often. Cream in the melted and cooled chocolate, then add the egg and egg yolk and mix until smooth. Add the wine and mix again, until smooth. Gently stir in the sifted dry ingredients until smooth again. Scrape the batter into the prepared pan and smooth the top.
Bake for 25 ~ 28 minutes at 325°F/160°C, then (carefully!) cover the top of the pan with tin foil, turn the heat down to 300°F/150°C, and bake for another 12 ~ 15 minutes, or until a toothpick inserted into the center of the cake comes out clean.
I only made a couple of modifications to this. I left out the espresso powder, because a) I didn't have any! and b) I don't like espresso. Also, I didn't have bittersweet chocolate but more of a semi-sweet, so I used that and cut the sugar down to 3/4 cup instead. I also found that it didn't quite need as much cooking time as this, but it might have been because I made it in a rectangular pan and it probably wasn't as thick.
Angry Cherry serves this with a red wine syrup, but if I use the rest of my wine making that, what will I drink? I'm choosing instead to go back to something more similar to what's on the original blog that Angry Cherry got it from (
Smitten Kitchen
) and make a cream cheese/whipped cream vanilla topping.
Topping
1/2 package cream cheese (4oz)
1/2 cup whipping cream
1 1/2 tablespoons caster sugar
1 teaspoon vanilla extract
juice of half a lime
Whip together the cream cheese and whipping cream, then gradually add the sugar and vanilla. Add lime juice to taste. In hindsight, although it was yummy, I don't think it really needed the cream topping. It was pretty great all by itself, although next time I might try that red wine syrup just for fun! Oh yes, there WILL be a next time.
This cake was absolutely delicious. It came out very moist, dense, very rich, and SUPER chocolatey, and although the wine flavour was evident it wasn't overpowering. I took it to work, as I usually do with baked goods (kind of insurance that I won't eat it all myself!) and it disappeared pretty quickly so it must have been good! I made them all guess the secret ingredient and Tu and Xuan, our Vietnamese receptionists, were the first to get it! Well done ladies!