Me and my Grandma when I visited last year.

I took a trip home last June, and while I was there, I got to talking to my sister in law about family recipes. She put forth the idea that we should have a family recipe book, with all of our old childhood favourites in it, that we can print and give out to the whole family. Part of the idea was so that they don't disappear, and partly just because some of us don't have these recipes and want them! (At this point my brother asked me if I could give him the one I'm about to post.) I don't know if Trish has pursued this idea at all (she's kinda busy...), and we did think it would be tricky to narrow it down. Where do you draw the line? Does it have to be something I remember, or can it be from a cousin, or an aunt, or from an in-law's family, Mom's side or Dad's....how do you decide what goes in and what doesn't? Everyone's experience and memories of food are different, so while I love the idea, I think such a project has a great risk of offending someone!
So, I'm starting a new project here. I'll have a new category of blog posts, called Old Family Favourites, and every recipe in it will be just that - something from my childhood, that mom, dad, grandma, an aunt, or
anyone in my family
used to make! (And of course, things they still do make!) There are dishes that have appeared at big family gatherings throughout the years that I
know
my siblings and I always look forward to! Dishes here can be from either side of the family, just whatever comes to my mind, when I get around to making it, I'll post about it. Some will be dishes I already make regularly, some not. Some of those I might have altered to my own tastes, some are already perfect just as they are. I have my own ideas about what should go here, but I'm open to suggestions from any family member who might read this or hear about it or want to contribute, and I'm not afraid to try cooking things I haven't made before (assuming I can get the ingredients). I know there will be things I haven't thought of! So please, family, let me know if there's anything you want me to cook and then blog about!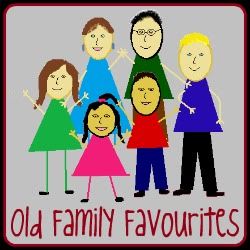 This button will be on each "Old Family Favourites" post, and it will also always be on the sidebar, so if you want to find any of my posts that fall into this category, you can just click on it and it'll list them all for you!
For starters, tonight I made a dish that I ate time and time again when I was a kid - Pork Bits Hawaiian.
I think the original recipe came from a cookbook my mom bought as a fundraiser from a friend's kid's school (Why do I remember this useless information?), and that's what it's called in the book, but I've always thought it should be the other way around...Hawaiian Pork Bits just makes more sense doesn't it? But either way, Pork Bits Hawaiian is what it's always been in my family, and that's what it always will be to me. And it's simple, super easy, and delicious!
Start with some pork, (I have no idea what cut I buy here, something fairly lean) and cut it into bite-size chunks. Brown these in some hot oil, then add half a cup of water and let it simmer for 30 mins to an hour (this helps tenderize the pork a bit I think). Check now and then that the water hasn't all evaporated away.
In the meantime mix up 1/4 cup brown sugar and 2 tsp cornstarch (my recipe actually just says 2. I'm thinking it's tsp because 2 tbsp sounds like a lot, but you may need to adjust to whatever you need to get your sauce thick enough), then add the syrup of one can of pineapple*, 2 tbsp soy sauce, 1/2 tsp salt, and 1/4 cup of white vinegar.
*Since I've been living here I've been using fresh pineapple for this dish. This presents a number of problems, the first being that there is no syrup from the can! I buy a carton of pineapple juice and use that instead, but because that isn't as sweet as the syrup, I have to add more sugar. I also am not sure how much of either pineapple juice or sugar to add, so this whole sauce becomes a big taste test with me adding things until I think it's right. I sometimes end up making it too sweet because that's what tastes right, but then when it goes in the dish it's too much, so if you're doing this, be careful. You can always add more sugar when it's in the pan later if it really needs more. The advantage of doing it this way is that I can make as much sauce as I want! The other "problem" is that when pineapple is in season here, it's actually too sweet for this dish! I most certainly am NOT complaining, I'm just sayin'.
Ok, so then chop up some onion and green pepper (and your pineapple, if you're using a fresh one like I do), and when most of the water has evaporated from the pork, toss the onion in for a couple of minutes. Then add the sauce, and let it heat up and thicken. Stir occasionally.
When the sauce is thick, add the green pepper and pineapple, and cook until it's a bit tender.
Serve over rice, and ENJOY!


Pork Bits Hawaiian
Brown pork. Add ½ c water and simmer 1 hr. Drain pineapple, save syrup. Combine sugar and cornstarch. Add syrup, vinegar, soy sauce, salt. Cook low until thick. Pour over pork. Add pineapple, green pepper, and onion. Serve with rice.